JYMIE MERRITT
Jymie Merritt has worked in jazz, R&B, and blues. In the early 1950s he toured with rock and roll pioneers Bull Moose Jackson and Chris Powell, moving on to work with legendary bluesman BB King from 1955 to 1957. In 1957 Jymie moved to New York to work with Art Blakey and the Jazz Messengers. The Messenger ensemble Merritt joined featured his friend Benny Golson as well as Bobby Timmons and Lee Morgan. Merritt's touring and recording with Blakey extended until 1962, when health issues prevented him from continuing.
By 1964 Merritt was back, working with the trumpeter and vocalist Chet Baker, and is featured prominently in Baker's unfinished autobiography published under the title "As Though I Had Wings": The Lost Memoir.
From 1965 to 1968 Merritt worked with the drummer, composer and activist Max Roach, not only as a sideman but also as a composer, recording "Nommo" on Roach's critically acclaimed 1966 Atlantic album "Drums Unlimited." "Nommo" would earn Merritt a nomination for Best Jazz Composer in Downbeat Magazine's Critics Poll. Merritt left Max Roach in the late 1960s to work with another jazz icon and one of the founders of be-bop, trumpet master Dizzy Gillespie, appearing with Gillespie's band on The Dick Cavett Show. One of Jymie Merritt's most productive showcases as a composer was when he reunited with his former Jazz Messenger colleague, gifted trumpeter Lee Morgan. Morgan's 1970 Blue Note release "Live at the Lighthouse" featuring Merritt's composition "Absolutions" (recorded earlier by Max Roach) has become a jazz classic.
In 1962 Jymie Merritt formed and fronted the Forerunners in Philadelphia. The band, which evolved into a music cooperative exploring Merritt's own system of chord inversions, harmonics, and unique approaches to composition and rehearsals, produced a lexicon of its own known as the Forerunner System or concept.
Among the original members of Forerunner were Odean Pope, Kenny Lowe, Donald Bailey, and September Wrice. This group performed regularly in and around Philadelphia for five years, until Merritt joined Max Roach's band. Pope would also join Roach's band, playing with him for two decades. Forerunner was on and off periodically from the 1960s through the 1980s, depending on what band Merritt was playing with at the time as well as how his health was. Saxophonist Bobby Zankel was a member of the second incarnation of the group when he joined in 1982, which also included Alan Nelson, Odean Pope, Julian Pressley, Colmore Duncan, and Warren McLendon. Zankel is primarily known as an alto player, but played baritone sax with the band, and described the role of the sax section over solos as taking on an accompanying role, where they would always play under the soloist, comparing it to the typical role of the bassist but in the sax section." Having just celebrated his 90th birthday, Merritt continues to compose and rehearse new music with the current incarnation of The Forerunners, many of whom have been with the ensemble from its inception.
Pioneer of the electric bass. He played a custom-built 5-string Ampeg Baby Bass personally designed by Everett Hull. Merritt recalls when he first bought a Fender bass: "Now all this time, I had been playing electric bass, from about the first year of service with the Bull Moose band. We were out in Oklahoma somewhere, when Benny Golson saw this Western band, what you call a hillbilly band, with a fellow playing what looked like a guitar and sounded like a bass. Benny got me over to hear this and we later saw one in a music store. Benny went in for some reeds or something, so I tried a Fender electric bass and that night I took it to work. The owner let me take it and I tried it out working and nobody raised any objection. I had been having trouble with my own bass, one of the assembly line types, so I was in the market for a new bass. Anyway, I got curious and bought the thing and played it for the next seven years or so. I guess at the time I was the only one in jazz playing an electric bass. Certainly, I'm pretty sure Monk Montgomery wasn't playing one because we used to see him in Minneapolis and he was always interested to see the instrument."
Awards and honors
Jymie Merritt was honored with the Don Redman Heritage Award in June 2008 at a ceremony and concert in Harper's Ferry, West Virginia at the annual event sponsored by the Harpers Ferry Historical Association and the Jefferson County NAACP in cooperation with the Don Redman Heritage Society of Piedmont, West Virginia. At the 2009 Philadelphia Jazz Fair, produced by musician and professor Don Glanden, Philadelphia's University of the Arts and the Jazz Heritage Project honored Jymie Merritt and the jazz organist Trudi Pitts with the Jazz Heritage Award. Merritt's award was presented to him by fellow bassist Charles Fambrough. In November 2013, along with friend and fellow bassist Reggie Workman, Jymie Merritt received the Clef Club of Philadelphia's Living Legend Jazz Award. In June of 2016 Jymie Merritt was awarded a Fellowship by The Pew Center for Arts & Heritage.
Musicians who have participated in Forerunner over the years include Tim Andrulonis , Donald Bailey, Calvin Benson, Uri Caine, Stanley Cowell, Alexander Evans, Teagle Fleming, Juanteen Folks, Sonny Fortune, Richard Hill, Manuel "Rod" Jackson,  Horace Lavender , Wil Letman, Charles Lewis,, Kenny Lowe, Middy Middleton, Conny Murray, Julian Pressley, Umar Raheem, Lacy White, Max Roach, "Bones" Roye,  Robert Shabazz, Joe Smithers, Melvin Vines, September Wrice, Bobby Zankel and many others.
The current Forerunners lineup ,from left to right is: Odean Pope, Terry Lawson, Alan Nelson, Mike Merritt, Warren McLendon and Colmore Duncan. Photo by Craig Blankenhorn
ODEAN POPE
Saxophonist Odean Pope was born in Ninety-Six, South Carolina to musical parents who rooted him in the sounds of the Southern Baptist Church. After moving to Philadelphia, Odean grew up in jazz rich territory with other Philadelphia notables including: John Coltrane, Lee Morgan, Clifford Brown, Benny Golson, McCoy Tyner, Jimmy and Percy Heath, Kenny Barron, Archie Shepp, Jymie Merritt and Philly Joe Jones. He also studied with Ron Rubin, the principal woodwind player in the Philadelphia Orchestra, and went on to future studies at The Paris Conservatory for Music under Kenny Clarke.
Odean, along with percussionist Warren McLendon and pianist Colmore Duncan were among the first group of musicians involved in Jymie Merritt's Forerunner collective, started in Philadelphia, during the early 1960's.
In the early 1970's Odean helped to form Catalyst, a collective of musicians and music that successfully integrated musical influences of the church,  '50's era Philly jazz and R&B, and classical woodwind chamber music. In 1979, Odean became a member of the Max Roach Quartet for more than two decades. It was during this time that he perfected the techniques of circular breathing and multiphonics. Odean won acclaim from Australia to Japan, even winning "Best Tenor Saxophone Player" at the North Sea Jazz Festival.
He started a nine-member saxophone choir in 1977, and their debut recording "The Saxophone Shop" (Soul Note) was released in 1985. The saxophone choir has been a medium for creating the richly textured harmonic sound that has permeated his musical soul since childhood. The choir reaches a stunning intensity that is simultaneously one voice and is also, as described by Francis Davis, "harmonically engorged." Odean works with his trio, (Lee Smith, Craig McIver) quartet and saxophone choir.
Odean Pope's artistry as performer, composer and arranger has earned him many citations from the City of Philadelphia. Among his many awards are: The Pew Fellowship in the Arts for Music Composition (1992), The Rockefeller Foundation (1992) and several from Chamber Music America.
Visit OdeanPope.com
TERRY LAWSON
Philadelphia-based saxophonist Terry Lawson has spent time playing with the Harrisburg Area Community College Jazz Band, The Clark College Jazz Band and The Howard University Jazz Band under the direction of Donald Byrd.
Other credits include The Frank Jackson Big Band, The Philadelphia Legends of Jazz under the direction of Leon Mitchell, and the Eye In The Sky band with Tyrone Hill. Terry has also performed with The Stylistics, Larry Young's Organ Ensemble, The Butch Cornell Organ Ensemble and The Roy Haynes Hip Ensemble. He is a founding member of The Sonic Liberation Front.
Along with his current involvement with The Forerunners, Terry also performs with The Odean Pope Saxophone Choir and The Sun Ra Arkestra.
ALAN NELSON
Drummer Alan Nelson has been a presence on Philly's jazz scene for decades. After studies at Wilberforce University, Rutgers University and Community College of Philadelphia, he spent many years performing and touring with trumpeter Marvin Hannibal Peterson.
Other experiences include performances with James Moody, Shirley Scott, Sonny Stitt and Cecil McBee. He has been involved with Forerunner since the 1970's; he can also be seen performing with the Lines of Reason Quartet, and with bands led by saxophonist Julian Pressley and bassist Calvin Hill.
Alan has also been an educator, currently an adjunct at Drexel University's music department.
MIKE MERRITT
Born and raised in Philadelphia, PA, bassist Mike Merritt was influenced and guided by his father, bassist Jymie Merritt.
After studying double bass with Eligio Rossi at Settlement Music School, Mike focused on learning jazz with percussionist/composer Warren McLendon, whom he also played with in an ensemble called The Nuclei. Their material was based on the concepts Jymie Merritt had incorporated into The Forerunners. This experience culminated in a recording titled "Spirit of the Ghost Dance".
Soon after moving to New York, Mike got a gig with Texas bluesman Johnny Clyde Copeland, who had relocated there from his native Houston. Highlights of that experience included tours of the US and Europe, which helped make Copeland a fixture on the international blues circuit. Recordings with Copeland included the Grammy-nominated live session "Ain't Nothin' But A Party." Another session with Copeland was "Bringing It All Back Home," recorded in Abidjan, Ivory Coast. A unique project that fused blues with African influences, it was one of the first world music albums from an American bluesman. After leaving Copeland's band, Mike worked as a free lance player on NYC's blues circuit, eventually falling in with Jimmy Vivino and James Wormworth to tour and record with Chuck Berry's original pianist and Rock and Roll Hall of Fame inductee, Johnnie Johnson.
They also worked as"Jimmy Vivino and The Black Italians", who held court every Thursday night at Downtime on W. 30th St. Along the way, Mike's toured and recorded with bluesmen and Son Seals; was a member of the Howlin' Wolf All-Star Tribute Band along with Vivino, Hubert Sumlin, Levon Helm, and David Johansen; was a member of The Rekooperators with Al Kooper; played blues rock with Popa Chubby; vintage rock with Chuck Berry and Chubby Checker; Jersey rock with Bruce Springsteen and Southside Johnny; was an original member of Levon Helm's Midnight Ramble Band; He has also backed up some great female vocalists including Keely Smith, Phoebe Snow, Ruth Brown, Joan Osborne, Catherine Russell and Shemekia Copeland. Current projects include Rock Candy Funk Party and The Paul Tillotson Love Trio.
Mike's first solo recording project, co-produced with sister Mharlyn Merritt on vocals, was Alone Together, released in 2006. The material is a mix of jazz, pop and soul standards, and features contributions from Uri Caine, John DiMartino, Brian Charrette, Lew Soloff, Al Kooper, and brother Marlon Merritt on guitar. JazzImprov's review states "Alone Together….brings together the Merritt family, whose second generation obviously is as talented as was their father". Mike Merritt is currently a member of The Basic Cable Band, led by guitarist Jimmy Vivino, featured on the late-night talk show "Conan", which airs weeknights at 11pm on TBS.Since 2009 Mike has lived in Los Angeles. "Conan" is currently produced at stage 15 on the Warner Bros. lot in Burbank, CA.
Visit MikeMerritt.com
WARREN MCLENDON
Philadelphia born and bred keyboardist, percussionist and composer Warren McLendon studied piano at PMA (currently known as the University of the Arts). Warren's involvement with Jymie Merritt and Forerunner dates back to 1964, when he began studying Jymie's musical system and applying those techniques as a jazz drummer.
He worked with John Coltrane in 1964-65, and has been a long standing member of Forerunner almost from the very beginning. In the early 1970's, Warren continued with the Forerunner system and formed The Nuclei, where, along with alto saxophonist Horace Lavender, guitarist Manuel "Rod" Jackson and bassist Mike Merritt, they explored polytonality and cross rhythms even further, documented on their 1976 recording titled "Spirit of the Ghost Dance".
A longtime drummer and percussionist, Warren switched to performing on keyboard since the 1980's.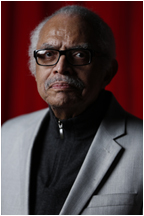 COLMORE DUNCAN
Pianist Colmore Duncan started playing piano in elementary school as he was being taught to read music by his mother while growing up in Philadelphia. He worked for ten years as pianist for legendary Philadelphia saxophonist Jimmy Oliver. After military service, Duncan returned to Philly and was one of the very first musicians to study with Jymie Merritt and become a member of Forerunner.
He is the longest standing member of the group.